This site is hosted by the Family and Friends of Dr. Mutulu Shakur, and is dedicated to one of the most prolific, committed and conscious freedom fighters and political prisoners to whom the Black liberation struggle has given birth.
Dr. Mutulu Shakur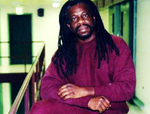 Dr. Mutulu Shakur is a New Afrikan (Black) man whose primary work has been in the area of health. He is a doctor of acupuncture and was a co-founder and director of two institutions devoted to improving health care in the Black community.
Mutulu Shakur was born on August 8, 1950, in Baltimore, Maryland as Jeral Wayne Williams. At age seven he moved to Jamaica, Queens, New York City with his mother and younger sister. Shakur's political and social consciousness began to develop early in his life. His mother suffered not only from being Black and female, but was also blind. These elements constituted Shakur's first confrontation with the state, while assisting his mother to negotiate through the maze that made up the social service system. Through this experience Shakur learned that the system did not operate in the interests of Black people and that Black people must control the institutions that affect their lives. Contine Reading »
U.S. Truth and Reconciliation Comission
This paper is a response to questions and concerns regarding the "Discussion Paper" of the application of a Truth and Reconciliation Tribunal that addresses the conflict between the civil rights/black liberation struggle against the U.S. COINTELPRO low intensity warfare.
There are some among our ranks who have raised some legitimate and novel questions and concerns as to why I have chosen to espouse the South African Truth and Reconciliation Commission (TRC) process. I do this to shed light on, and to gain relief for, our political prisoners and allies of the black liberation movement. Contine Reading »
Links