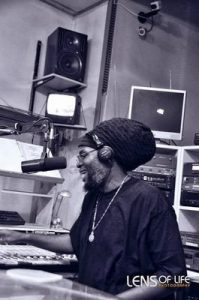 I am writing this letter on behalf of Dr. Mutulu Shakur. In 1996, I was hosting a radio program in Atlanta and would receive numerous letters from inmates at Atlanta Federal Penitentiary. I was invited to speak at a program in the prison where I met Dr. Shakur. I had no idea who Dr. Shakur was or knowledge of his history. Soon after my speaking engagement, I was asked to become a chaplain volunteer for the Rastafari community within the prison. I noticed that Dr. Shakur was very active in many programs and had a good relationship with other inmates and staff. An inmate told me that Dr. Shakur was the step-father to the famous rapper Tupac Shakur. This did not impress me because, at the time, I was not a fan of Tupac's music. What did make me notice Dr. Shakur was the positive programs that he spearheaded while in Atlanta and Coleman, Florida as an inmate. Dr. Shakur would conduct Kwanzaa celebrations, Black history classes, Hip Hop conferences to promote positive music and conflict resolution meetings between staff and inmates.
During one my visits to Atlanta Federal Penitentiary, one of the men in my religious group had a serious conflict with another inmate who was in a gang. The conflict started on the basketball court where the inmate who was in the gang spat on the man from my group. At the time, I was very ignorant to prison life or rules but I knew violence seemed to be in the near future. I witnessed Dr. Shakur bring both men and their representatives to a group meeting in the chapel. Dr. Shakur diffused the situation where both men agreed to respect each other's space and no violence occurred between the two groups of men.
Another incident I witnessed was a young inmate who was having a mental breakdown after losing an appeal and he appeared ready for violence. Dr. Shakur grabbed the young man and held him tight while talking to him. I do not know what he said to him, but the young man was in tears and ended up participating in the conflict resolution class. The younger inmates would refer to Dr. Shakur as father many times. I know Dr. Shakur took on a mentor and father role for a lot of young men and tried to prepare them for life in prison and for life if released.
While on a visit to Coleman, Florida I was part of a conference the prison was hosting. The conference was promoting positive Hip Hop music and the influence music has on young people and prison culture. I had the opportunity to talk with the warden and he gave me a tour of the prison. The warden told me that his prison, USP Coleman II, had no major incidents of violence in the last year since Dr. Shakur and the other inmates from Atlanta had been transferred. Warden Holder was very proud that his staff and inmates were in a safer environment than before. The warden did give credit to his staff, Dr. Shakur and his conflict resolution classes. He also said this was the reason he would continue to support the cultural programs like Kwanzaa celebrations, Black history classes, Fatherhood classes, etc.
During my twenty years as a contracted chaplain for the Federal prison system, I have been to many prisons in the south and east coast. I have met many men (inmates and staff) who have told me about the positive influence Dr. Shakur has had on them. I am now aware of the crimes that Dr. Shakur is serving his time for. I did not know of Dr. Shakur before his time in prison. I am a witness to the many good works he has accomplished while incarcerated. I am a witness to the many lives Dr. Shakur has impacted positively. I am impressed and motivated by Dr. Shakur to do positive things in my community. Dr. Shakur has done so much good while incarcerated, imagine what he could do if he has his freedom. At this time in society, Dr. Shakur's contribution is very much needed to help the disenfranchised have goals of a better future. Please consider giving Dr. Shakur an opportunity to prove me right by granting him clemency. Thank you for your time.
-Chaplain IRAS Levi