We are pleased to announce the first Philadelphia-based Healing & Justice benefit event: a day of rejuvenation and inspiration in honor of Dr. Mutulu Shakur!
Saturday, December 7th  –  1-6pm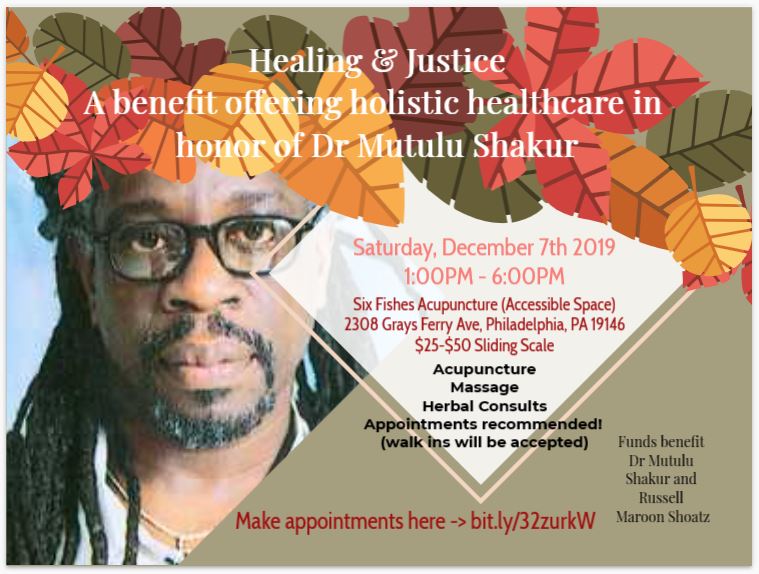 Book an appointment for acupuncture, massage or an herbal consultation for yourself or as a gift for someone who deserves it. Through his revolutionary work with Lincoln Detox, Black Acupuncture Advisory Association of North America and the Harlem Institute of Acupuncture, Dr. Shakur utilized acupuncture to not only heal but also empower. In honor of this legacy, licensed acupuncturists, massage therapists and herbalists will come together at Six Fishes Neighborhood Acupuncture to provide care for sliding scale donations of $25- $50 (cash preferred).
This event is hosted by Philly ABC and donations support Dr. Shakur's legal defense, commissary essentials, and projects promoting justice for the Black community. In solidarity with long-term political prisoner from Philadelphia who is battling cancer, Russell Maroon Shoatz, a portion of proceeds from the event will go to his support fund.
Since space is limited, use the form below to schedule an appointment:
Thank you for supporting this fundraiser for Dr. Mutulu Shakur by requesting an appointment, and we will contact you as soon as possible to confirm your appointment! Acupuncture is provided by Vito Leva (Acupuncture off Broad) and Margie Navarro (Vivacity Acupuncture), bodywork by Lore Elizabeth, massage by Dro and herbal consultations and onsite remedies by Feonix Rose and Kenton Cobb.
As of December 6th, we are no longer taking appointments for this event but walk-ins are welcome on a first come basis!