Join Maroon Party for Liberation this Saturday, March 20th from 3-5pm EST, for a screening of a short film on the radical history of acupuncture produced by Eana Meng followed by a discussion featuring:
Talib Shakur (son of Dr. Mutulu Shakur)
Dr. Shadidi Kinsey (former student of Dr. Shakur & founder of PEACE Health Center)
Bro. Shep (Veteran Black Panther & Zulu King)
Laura Whitehorn (former political prisoner & activist)
Join via Zoom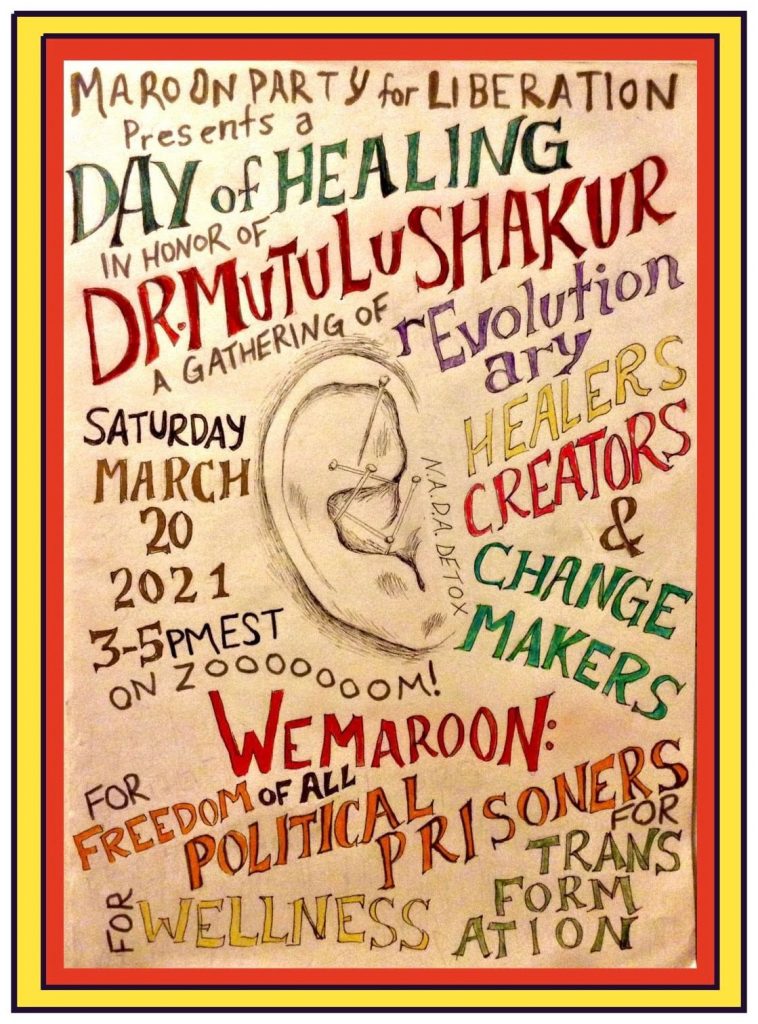 We, the North Sphere of the Maroon Liberation School, have initiated a response to the opioid epidemic (along with addictions of all kinds, trauma and stress relief) in a way that amplifies some of the genius that emerged after the Human Rights Movement through the efforts of Dr. Mutulu Shakur, Republic of New Afrika healer and acupuncturist.
We are inviting people to come together and extend the celebration of 50th Anniversary of the Lincoln Detox Center by considering it's contribution to our current health crisis through a national Zoom Gathering on Saturday, March 20th from 3 to 5 pm Eastern.
The week following that gathering, we are inviting organizers to create Healing Hubs in tune with the unique needs of their communities. Right now, we have Healing Hubs being coordinated in Vermont, Los Angeles and Chicago (New York needs a co-coordinator) and are inviting others to consider generating a healing hub in their respective communities anytime March 20 – 28.
NADA, an easily accessible acupuncture technique developed by Dr. Mutulu Shakur was a grass-roots, people-powered response to heroin being planted in Black communities to halt/slow the progress of Human Rights for all. Now, with almost 2 million suffering from opioid addiction in the United States, we wish to emphasize this effective solution made available by Dr. Mutulu Shakur and support actions that can free him as a political prisoner.