Family, Friends:
Thank you for continuing to show your support. I always take pleasure in learning about your varied pursuits in today's era. Many of your letters offer new insight into the many changes taking place, and your questions give pause to reflect on your perspective.
We are now preparing for the United States Parole Commission's unprincipled resistance and failure to follow due process in an incremental manner. It continues to be important for you to submit support letters concerning my ability to get a fair hearing, as well as my capabilities to integrate without being a threat to the community and to continue to be of purpose; contrary to what they allege. Judicial and legislative branches have left us all amiss as to what we can expect in this turbulent period. Ironically, it is not apparent if moral consciousness has yet had the prevailing effect over the abuse of power, and expectation of due process.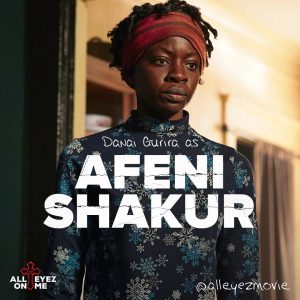 As you know, "All Eyez On Me" was released this summer and received mixed reviews. I have yet to see the film, but I have been in contact with the actor who portrayed me, Jamie Hector. I find it refreshing to have an established artist make contact to determine if his work has done a historical role justice. I am humbled through the sincerity of our interaction, and his intention; the yearning in his search for the truth is revealing. Again, I have not seen the film, but from all personal comments and reviews, Jamie has done justice to my character and did not disrespect the legacy of the Shakurs. I was also very pleased that Afeni was portrayed by Danai Gurira, of The Walking Dead. She has a natural essence similar to Afeni, evident in her role as "Machone." I am also told that she will continue her role in the upcoming Black Panther movie.
From our conversations, it was apparent that Jamie acknowledges the complexity of the struggles of those times. Clearly, I cannot determine whether or not the movie or characters captured the essence of the movement in its totality or the legacy of my son justly. Knowing that Tupac was birthed in the intense struggle of the Black Power movement, his life journey manifested the wounds of that era's conflicts. Many questions have been raised, as to 'how we got there.'
A Truth and Reconciliation Commission (TRC) process, utilized all over the world most notably in South Africa, offers a process available to all sides hopefully. Further interaction with Jamie and others will encourage the social appetite of artists to invest in the TRC process. There is a new timely rule, initiated by a report and recommendation by U.N. Rapporteur Juan Mendez and accepted by the U.N. General Assembly, know as the "Nelson Mandela Rule." I support the "Nelson Mandela Project" with the Jericho Movement.
I have been selected to be recognized at the 2017 Annual Black Power Awards in Georgia. I still need more information and background about the event, but I am truly honored to be recognized amongst peers who have learned like me the many lessons from the earlier Black Power period.
We all have our work cut out for us, but we also need to acknowledge the efforts of one another: Jamie Hector and the successes of the Moving Mountains film and acting school for at-risk youth; Sophia Dawson and brother Peekaso for their artistic expression in advocacy of political prisoners– Sophia recently presented an exhibit reflecting the path of our struggle at the Bronx Museum's Biennial showcase and Peekaso demonstrated his painting talents while on stage during a live concert while both artists have created and presented exceptional paintings of me and others in raising awareness to cases, for which we are grateful; Celebrated acupuncturist and healer, comrade Tatsuo Hirano, has put forth efforts to establish an acupuncture treatment program within the California penal system to treat prisoner-patients for symptoms of P.T.S.D. and post-incarceration Syndrome (PICS), by implementing the Lincoln Detox acupuncture protocols continuing our legacy; Chokwe Lumumba and his son, both great men, have been elected by citizens of Jackson, Mississippi as mayors; both are historical victories. We are elated!! Prior to his passing, Chokwe Lumumba Sr. was Tupac's attorney as well as mine, and a brother in our struggle. We are proud of his son and very optimistic about the future; Colin Kaepernick for willfully jeopardizing his career in protest of police shootings of unarmed civilians (his actions charge us that there are sacrifices and consequences for raising awareness to injustice, we have the responsibility to demonstrate support; otherwise people like Colin will continue to be marginalized and punished for their peaceful protest); Jay-Z recently did great work on the Kalief Browder documentary and editorial in Time Magazine regarding the broken and discriminatory bail system in the United States; Dr. Sonnee Weedn has done amazing research and development of brain imaging, to which we hope to remain engaged.
We are very pleased to have received official support from our Harlem congressman for my release on parole in 2018. I prevail that we should continue our efforts in pursuit of congressional support and political capital towards the end goal of releasing our prisoners. Time is not on our side– I'm sure there is more, but space will not allow. Truthfully, I do not have the time to correspond individually; hopefully this gives respect to your letters and concerns.
I want to recognize and say 'thank you' to everyone on social media who continues to show their support through Twitter and Facebook. I encourage you to reach out to the tech squad if you'd like to be involved with upcoming projects they are organizing, such as art shows for political prisoners awareness. Stay connected as we continue 'straight ahead.'
"Colin can't get work, Mutulu still in jail, why Philando and Sandra never made bail?"
Mud and Water
'Pray for Me and Picture Me Rollin'