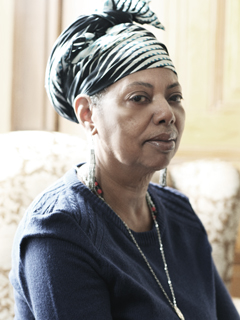 STATEMENT BY DR. MUTULU SHAKUR ON THE PRESENTATION OF THE HEALTH ACTIVIST AWARD TO DR. BEATRICE KINSEY
It brings me great joy to bestow the Health Activist Award upon our sister Dr. Beatrice Kinsey. This is the first award granted in the field of acupuncture from our community to one of our own.
Dr. Kinsey searched out The Black Acupuncture Advisory Association of North America (B.A.A.A.N.A.) in Harlem in the late 1970's. B.A.A.A.N.A. was the forerunner of New African acupuncture in Harlem and North America. Our organization was under intense repression and media attack for providing alternate health care in general as well as for treatment of drug addiction. Dr. Kinsey chose our school knowing the risk of being labeled politically and professionally.
B.A.A.A.N.A. was not just a health care provider. It maintained a connection and support for the various struggles of self-determination of Third World people. As a result the FBI's Counterintelligence program (COINTELPRO) targeted and attacked B.A.A.A.N.A. in the early 1980's to the degree that we were unable to survive in that form.
Remaining in our community, Sister Beatrice followed our first B.A.A.A.N.A. graduate cadres under the able and dynamic leadership of Sister Dr. Urayoana Trinidad at the First World Acupuncture Association of Harlem.
Finishing her training at First World, Dr. Kinsey was accredited internationally by the International Association of Acupuncture headquartered in Montreal. Our historical ally and professional master of acupuncture Dr. Mario Wexu representing the great Dr. Oscar Wexu did this.
Dr. Kinsey fought with Dr. Trinidad to force New York State to fulfill its obligation and commitment, demanded by the earlier work of B.A.A.A.N.A. to establish acupuncture licensing in New York. The end result has brought into reality the organization Positive Education Always Corrects Errors (P.E.A.C.E.) Health Center located in our community of Brooklyn making alternative health care available to our people.
What I've outlined is a description of what our Sister Dr. Beatrice has done to become a healer. I will attempt to outline the type of person she is to master the art of healing. The art of healing requires a high form of spiritual intuitiveness. The struggle to learn acupuncture over the last three decades within the context of our political and philosophical view was not easy. It required a realistic New World view after experiencing COINTELPRO and the resistance of the American Medical Association.
The skill of treatment required that we become spiritually based. I'm not talking about the "spirit" unconnected to matter or spirit on a cerebral intellectual level. I'm talking about the spirit, which is a part of your own spirituality that gives you an appreciation of cosmic inter-relationships. One's ability to relate to metaphysical levels of experiences. It unites thought and feeling and therapy. Specifically and most important as a healer the spirit gives us health intuitiveness, an understanding of our environment, community and interpersonal thought that guides us to our future. A future unattainable without the spiritual guidance in "Bolekaja," a Yoruba term meaning "Come on down let's fight."
This is the type of person Dr. Beatrice Kinsey is. We thank you Sister Beatrice. It is my hope that a tradition has been established in honoring you.
It is written, "Be not impatient in delay but wait as one who understands when spirit rises and commands, the gods are ready to obey."
The vision that you glorify in your mind, the ideal that you enthrone in your heart-this you will build your life by. This you will become. Congratulations on Becoming.
I am honored to be a part of this history.
STIFF RESISTANCE
PREPARE FOR WAR
DO ALL WE CAN FOR THE PEOPLE ALWAYS
Dr. Mutulu Shakur